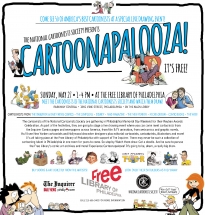 Come see me and 49 other cartoonists and illustrators from around the country at a special FREE live drawing event!
From the official press release: The cartoonists of the National Cartoonists Society are gathering in Philadelphia Memorial Day weekend for their Reuben awards celebration.
As part of the festivities, they are going to stage a live drawing event where you can come meet cartoonists from Newspapers, magazines, TV animation, magazines, comic books and graphic novels.
You'll see New Yorker Cartoonists and Hollywood character designers plus editorial cartoonists, caricaturists, illustrators and more!
It's all taking place at the Free Library of Philadelphia with support of the Philadelphia Inquirer.
Stop by, get a doodle! And be sure to peruse the Free Library's comic art archives and more!
Location:

The Free Library of Philadelphia- 1901 Vine Street
Philly, Philadelphia