Coming in 2017- Rube Goldberg picture book, illustrated by.... me.
As I continue my regular work as an advertising and print illustrator, I'm fortunate enough to have a new iron in the fire.
Early in 2014, I started pursuing a publishing deal with an author friend of mine & an editor friend of mine. 18 months later, I'm under contract to finish illustrating a 32 page children's book!

Meet Rube Goldberg, boy inventor....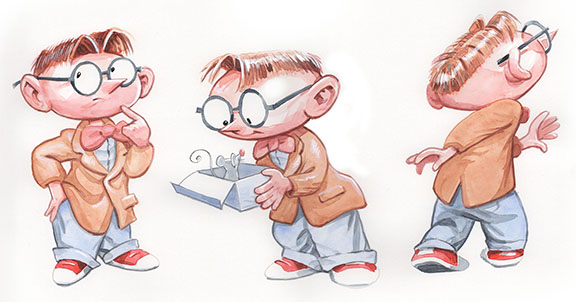 Rube is the modern iteration of the famous cartoonist Rube Goldberg, famous for his nonsensical inventions, who's purpose was to achieve some minor task in the most elaborate way possible.

I'm currently working with the Rube Goldberg estate and his granddaughter Jennifer George, who's the author, to get this first in (what will hopefully be) a new series of picture books out by late next Spring, for a Spring 2017 release. Abrams Books is the publisher, and my editor is my buddy Charlie Kochman- Charlie's the guy who edits the Diary of a Wimpy Kid books, also from Abrams, so I know I'm in good hands.

Charlie's one stipulation is that everything be hand painted. Yikes!

This book follows Rube though a typical day- each 2 page spread contains some (frighteningly) elaborate contraption he created to help him get through his day. Spread one is his his simple way to get out of bed, then a simple way to get dressed, get through breakfast, etc etc. Each contraption is goofier than the one before, and the first spread has an elephant in it! The basic 'what's he doing' is all written, and it's up to me to come up with the contraptions. I've got my work cut out for me!

My winter just got a lot more hectic.

Can't share much artwork yet, other than this character study, but it's well underway.



---