New Events page is LIVE!
The cool cats over at Byte Studios, who built this site (as well as the previous 2 iterations!), just put the finishing touches on my new Events link.

Here's where I'll post any public appearances, book signings, drawing to-dos, parole hearings, etc. So, if you're looking for a reason to get out of your hometown, check here to see when I'll be coming through!
The timing is good- I've got a lot going on across the country this year- check out the section by clicking on the little Events key...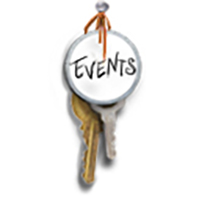 In addition to the usual book events, I'll also be a part of an upcoming Rube Goldberg traveling museum exhibit, beginning March 14th in San Francisco. I plan on being at the openings as it travels east, to Philly then Pittsburgh. All of the original spreads from the book will be displayed, and the Pittsburgh stop will be especially cool- they'll be building a life-sized model of one my machines from the book. I have no clue how they'll be doing this, but I'm told it'll be super cool and state of the art. Two things I most definitely am not.
---