Product review: Wacom bluetooth wireless keyboard
I had recently upgraded my travel drawing set up from the Wacom Cintiq 13HD to the Wacom Cintiq Companion 2.

The Cintiq Companion products, in addition to being fantastic drawing displays, are standalone, full featured PC computers. Prior to these machines, any Cintiq display had to plug into some other computer, either Mac or PC. With the Companion 2, it can be used with it's internal full Windows software, or can be tethered to a computer, Mac or PC, as an external monitor/drawing display.
To get up-to-date on what I'm talking about, go here...
With this jump in technology and trying to forgo lugging around my laptop, I found that using the onscreen virtual keyboard only good when you're really in a pinch or cramped for space, i.e., on the train, etc, but worthless with using key commands in programs like Photoshop. For that reason alone, having an external keyboard is simply a must. And why not Bluetooth? The less wires the better.

So, I went and tried 2 keyboards.

The first was the Anker Ultra Compact Slim Profile Wireless Bluetooth keyboard...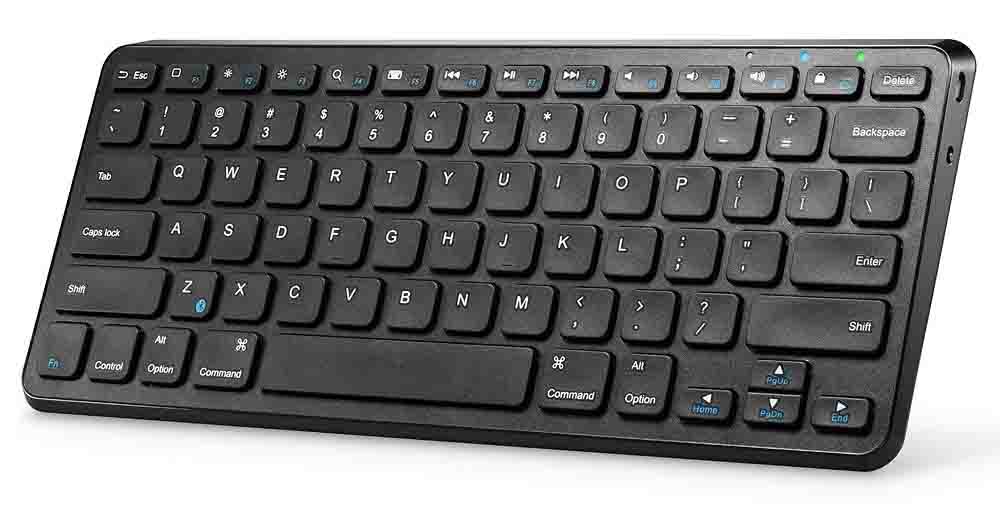 The second was the Wacom Wireless Bluetooth keyboard...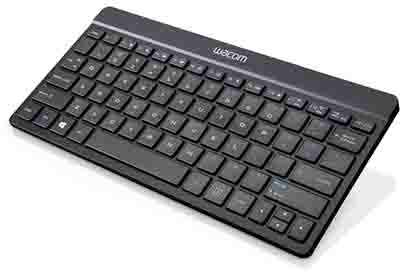 Nerdy techie stuff.
Both keyboards are very similar. The Anker is heavier and thicker than the Wacom (11.3 x 5 x .5", 11.4 oz, as opposed to the Wacom's 10.25 x 5 x .35", 10.5 oz), and only just barely fits into the slip case that comes with the Companion (well played, Wacom!) Both have tremendous battery life- I've used both for hours on end, and have only had to charge once or twice, and that's probably because I'm a doofus who occasionally forgets to switch things off. Regardless, the little mini USB cords both are shipped with are long enough comfortably plug in to the main device and continue working.

The Anker was difficult to pair to the Companion 2 at first, though I'm not sure if that's the fault of the product or the fact that the Companion 2's PC (Windows 10) software is, I hate to admit it, buggy and painfully counter intuitive. (More on this in my Companion 2 review... spoiler!)

But, when comparing devices like this, what's really important is, how good do they work?
The final answer on that is, they both work as fine as any keyboard. Once paired, both mostly continued to stay paired, though I did lose the Anker's connection from time to time, never lost the Wacom. The keys on both are very gratifying to press- In reference to key feedback, I'd say they both took a page from the Apple school of keyboard design. Both are very slim but feel sturdy enough to withstand the rigors of daily commutes, train rides, being thrown into crammed computer bags, even the occasion drop. (Didn't test that last one, but I imagine both would be fine with the occasional tumble.)

One advantage the Anker has over the Wacom is LED indicator lights. The Anker has an illuminated Caps Lock key as well as a bluetooth connection light. The Wacom has no battery indicator, which can get troubling on a long flight when the cord isn't within reach. Not that that really matters- again, the batteries on both of these things are really pretty amazing. When the Wacom is in pairing mode, a tiny little LED blinks for a few seconds and disappears when everything's paired. I'm sure battery life was taken into consideration with details like this.
Another drawback to the Wacom keyboard is price. The Anker keyboard is roughly half the cost of the Wacom at $25.00 to Wacom's $49.95.

The Verdict.
In the end, I ended up staying with the Wacom keyboard for three reasons:

1) It's extremely compact and rugged. It fits into the included slip cover that comes with the Companion 2 (duh), and takes up very little desk/lap space.

2) It's extremely low profile with nicely tactile, gratifying key feedback.

3) Because it's so small and so 'no-frills', (thought this might be my imagination) there's simply less that can go wrong with it. With the Anker, I always had to worry if it would lose it's connection with the device and simply stop working, completely throwing off my workflow. It did this a handful of times, but that's enough to make you doubt the machine.

So that's it. Like I said, I plan on doing an extensive review of the Companion 2- I'm still futzing around with it, but will have that up in the coming days.